スポンサーサイト
上記の広告は1ヶ月以上更新のないブログに表示されています。
新しい記事を書く事で広告が消せます。

--/--/-- --:--
|
スポンサー広告
| |
Top▲


Year end party of tennis club
I came back home just now.
I enjomyed myself at a year end party of tennis club of my office.
Of course, I'm not a menber of that tennis club.
My co-worker who is that member induced me.
That party made me to have several new acquaintnces.
Close to half was females.
I made a new friend that love cats!! (It's important for me.)
Very enjoyable!
Good X'mas.
スポンサーサイト


Long long time no see
I got a comment by several reserachres at our project meeting, yesterday.
Good comment and difficut to figure out that question.
But it is my work to figure out it!






Permanent employment of researchers
I found a newspaper article as follows.
Permanent employment?
Hmmmmmm・・・・・
This deal can't help a baby boomer junior.


Cool places
Temuco is good with finding cool places.
She likes a hallway.
But I tripped on her body last night and this morning.
I'm sorry!!!!
She takes precautious against me, when I walk neaby her.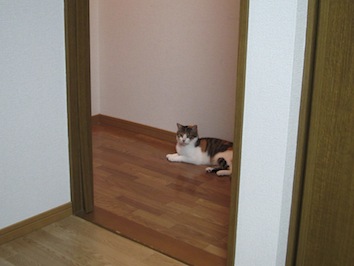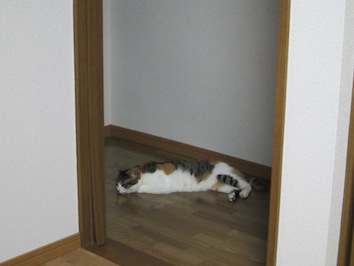 A lot of frogs
There are many many frog in the field of my research institute.
Here and there!
I need to careful not to step upon them when I walk across a road.
↓He seems to like a vending macine.
Japanese tree frog,
Hyla japonica


The person of fraud in application for employment
One year ago, I and my previous boss got in trouble.
It caused by N. T.,
the person of fraud in application for employment
.
The day before yesterday, I heard he worked at Patent Agency.
Of course, he is a part time job worker.
I worry wheather he disrupt our work.
feel sticky.


Fresh fresh vegetables
I got a fresh vegetables twice a week.
Because I worked at a vegetable company.
Epecially, an eggplant is so delicious!!
I take this oppotunity to cook a new recipe with an eggplant!


Too much party
I had a party last Monday.
Also tomorrow night.
In the present institute, too much party.
I wanna research.
I moved here to research!!!

According to my profile for 15 years, the people that drink too much on a daily basis, do not write research papers.

I don't want to go tomorrow's party to death.
I will go home after the fisrt party, and send an e-mail to Prof.




Grey-headed lawping
A part of rice field is still in the ealy days of rice planting on my normal route from home to the office.
I drove by that field around 10 : 00 am, this mornig,
a flock of grey-headed lawping,
Vanellus cinereus
, stayed there.
I've never seen
V. cinereus i
n Kyushu and Kanto area.
I remeber that M said, "I can usually see
V. ciereus
in Aichi prefecture." when we were at University.
He played a grey-headed lawping!
Now, I can see this bird easily.


Institute in the weekend
I go to a lab at 7: 00 almost every weekend.
There are a chatterers around my office.
Skylark,
Alauda arvensis
.
Last week, I saw the
Red-ramped swallow
,
Hirundo daurica
in front of the entrance of my office for the first time.
I heard also the voice of
Northern Goshawk
,
Accipiter gentilis
near the insect rearing room.
I will work hard till December, and then I want to enjoy bird watching in the year-end holiday.