スポンサーサイト
上記の広告は1ヶ月以上更新のないブログに表示されています。
新しい記事を書く事で広告が消せます。

--/--/-- --:--
|
スポンサー広告
| |
Top▲


Year end party of tennis club
I came back home just now.
I enjomyed myself at a year end party of tennis club of my office.
Of course, I'm not a menber of that tennis club.
My co-worker who is that member induced me.
That party made me to have several new acquaintnces.
Close to half was females.
I made a new friend that love cats!! (It's important for me.)
Very enjoyable!
Good X'mas.
スポンサーサイト


Long long time no see
I got a comment by several reserachres at our project meeting, yesterday.
Good comment and difficut to figure out that question.
But it is my work to figure out it!






Permanent employment of researchers
I found a newspaper article as follows.
Permanent employment?
Hmmmmmm・・・・・
This deal can't help a baby boomer junior.


Cool places
Temuco is good with finding cool places.
She likes a hallway.
But I tripped on her body last night and this morning.
I'm sorry!!!!
She takes precautious against me, when I walk neaby her.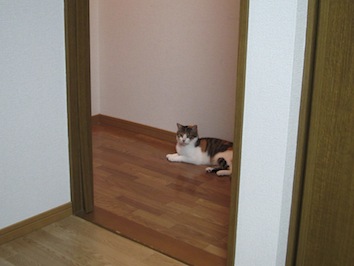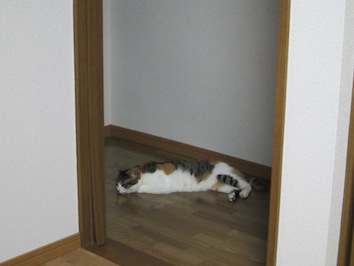 A lot of frogs
There are many many frog in the field of my research institute.
Here and there!
I need to careful not to step upon them when I walk across a road.
↓He seems to like a vending macine.
Japanese tree frog,
Hyla japonica


The person of fraud in application for employment
One year ago, I and my previous boss got in trouble.
It caused by N. T.,
the person of fraud in application for employment
.
The day before yesterday, I heard he worked at Patent Agency.
Of course, he is a part time job worker.
I worry wheather he disrupt our work.
feel sticky.


Fresh fresh vegetables
I got a fresh vegetables twice a week.
Because I worked at a vegetable company.
Epecially, an eggplant is so delicious!!
I take this oppotunity to cook a new recipe with an eggplant!


Too much party
I had a party last Monday.
Also tomorrow night.
In the present institute, too much party.
I wanna research.
I moved here to research!!!

According to my profile for 15 years, the people that drink too much on a daily basis, do not write research papers.

I don't want to go tomorrow's party to death.
I will go home after the fisrt party, and send an e-mail to Prof.




Birth day
Today is my birth day.
Unfourtunately, I had a drop og fever and slept out all day.
Temuco is around me every minute.
Thank you, Temuco.

I will spend the year of more research conpared to usual years.




Key trouble!
I locked the front door.
When I took out the key,
it buckled!!!
It was the first time that I saw buckled key!
I brought a key trouble service shop soon.
The clerk said, "Hmm, it's aged deterioration.
If you continued to use it, it will fracture inside the key hole.
Can I make a spare key?"
"Yes, please!" I answered,
The clerk said, "You had better to use not an original key but a spare one."
When I moved to a new room, I usually ask to make a spare key soon.
But this time, I didn't, because I had been very busy.
Not to fracturing inside the key hole is lucky it wasn't wrose.
Thank you, a kind clerk!
↑Sitting at the window is Temuco's morning routine.