スポンサーサイト
上記の広告は1ヶ月以上更新のないブログに表示されています。
新しい記事を書く事で広告が消せます。

--/--/-- --:--
|
スポンサー広告
| |
Top▲


Grey-headed lawping
A part of rice field is still in the ealy days of rice planting on my normal route from home to the office.
I drove by that field around 10 : 00 am, this mornig,
a flock of grey-headed lawping,
Vanellus cinereus
, stayed there.
I've never seen
V. cinereus i
n Kyushu and Kanto area.
I remeber that M said, "I can usually see
V. ciereus
in Aichi prefecture." when we were at University.
He played a grey-headed lawping!
Now, I can see this bird easily.
スポンサーサイト


Institute in the weekend
I go to a lab at 7: 00 almost every weekend.
There are a chatterers around my office.
Skylark,
Alauda arvensis
.
Last week, I saw the
Red-ramped swallow
,
Hirundo daurica
in front of the entrance of my office for the first time.
I heard also the voice of
Northern Goshawk
,
Accipiter gentilis
near the insect rearing room.
I will work hard till December, and then I want to enjoy bird watching in the year-end holiday.


The job of the previous lab
FInally, I finished the data reduction which I did at the previous lab.
A replacement experiments to verify the reproducibility of them.
I'm looking foward to the end result of that research.
By the way, I saw the following view.
Several egret are eating foods in the paddy field.
There are really many birds around here.
Such a view mellows me.


Lovely baybies
I saw the mother and baybies of Grey duck,
Anas poecilorhyncha zonorhyncha
.
It's the child-rearing season for birds.
This town is a region richly endowed with nature.
Many many birds live around here.


White Pelican
I was busy this week, because I received an interview for new job on 25th,
and had an annual end year's presentation.
So, I was relax and went to K pond.
I saw a white pelican for the first time.
He or she was larger than I'd imagined.
I feel he or she is old body.
But cute.
White pelican,
Pelecanus onocrotalus
The following birds is a happy-married couple of smew.
Smew,
Mergus albellus


This weekend's birds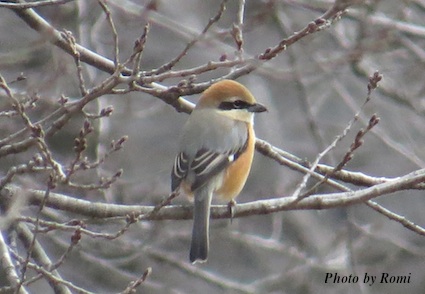 Bull-headed shrike,
Lanius bucephalus
Great Spotted Woodpecker,
Dendrocopos major
Varied tit,
Parus varius


Winter birds in K park
I left at 6 : 20 this morning and enjoyed bird watching in K park.
Japanese Tit,
Parus minor
Japanese white eye,
Zosterops japonicus
Great Cormorant,
Phalacrocorax carbo


The owl baby
I saw the ural owl,
Strix uralensis
for the first time.
The photo is the fledgling.
The farther was bewaring because there were several bird-watchers near his baby.
The babies were two.
Both were so cute.
This nature park is composed of alomost wildwood.
It is called village forest.
I know for certain that M also like here.


Bullfinch!!