スポンサーサイト
上記の広告は1ヶ月以上更新のないブログに表示されています。
新しい記事を書く事で広告が消せます。

--/--/-- --:--
|
スポンサー広告
| |
Top▲


This weekend's birds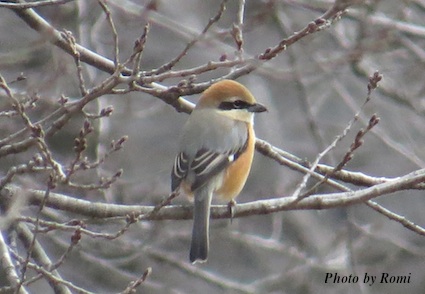 Bull-headed shrike,
Lanius bucephalus
Great Spotted Woodpecker,
Dendrocopos major
Varied tit,
Parus varius
スポンサーサイト


License of hazardous materials officer
I got a license of hazardous materials officer in 2005.
It doesn't seem like it's been ten year.

We renew an identification photo every 10 years.
I have to send the present license and a new photo to Japan Fire Engineering Qualification Center till January 25th.

Just now, I prepared all required documents.
Phew.
I will send it by registered mail.





Winter birds in K park
I left at 6 : 20 this morning and enjoyed bird watching in K park.
Japanese Tit,
Parus minor
Japanese white eye,
Zosterops japonicus
Great Cormorant,
Phalacrocorax carbo


Bioassay test
Recently I have counted number of children under a microscope for a few month.
Finally, I got good results.
I will consult my boss, S for a future plan.

I have a lame back.
Last week, I found a good massage professional.
Reasonable!!
I'll go there this Friday again.







The minimum temperature
Today's minimum temperature was -5℃.
Cooooold!!
It's cold for real.
Temuco curls up asleep in a closet every night.
Every morning, I stroke her fur, and then she gets out a closet.
But this morning, she didn't.
She fell back to sleep.
I also want to fall back to sleep in a warm bed!!!




Bird in route 58


In Yambaru
Route 58 in north area of Okinawa main land.
From Cape Hedo. The northern end of Okinawa main land.
Cuuuuuuute!!!
Okinawa rail,
Gallirallus okinawae
(artificial rearing individuals)
The stone of reincarnation in Daisekirinzan.
Hibiscus
Do my best 2015!!!