スポンサーサイト
上記の広告は1ヶ月以上更新のないブログに表示されています。
新しい記事を書く事で広告が消せます。

--/--/-- --:--
|
スポンサー広告
| |
Top▲


An old classmate
A surprized thing happened for me a little while ago.
An old classmate from univeristy visited to my lab.
Honestly speaking, we had not been familiar at that time.
But we remembered each other's face.
It's for the first time in "20 years" (since graduation) !!
I never expected to see an old classmate again.
I heard that classmate works at the company of breeding of vegetables and flowers in Nagasaki prefecture,
and came to study in other lab of my research institute today.
The opening words was "Oh! You are slim compared to in those days!"
Discourteous! But it had a point!
Because my body weight reduced 10 kg.
I felt "alumni" is good thing.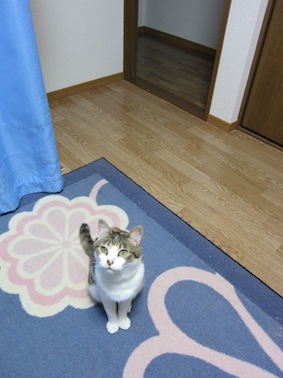 スポンサーサイト


Cough
I had had a cold during GW after going back from Kagosima business trip.
It was the record rain in Kagoshima while I visited some farmers in the end of April.
I think that the cause for my cold was that serious rain.
Therefore, I had been suffering from that cold and fever for about one week.
After that, I have had a bad cough since that cold.
I will have a presentaion in one week・・・・.