スポンサーサイト
上記の広告は1ヶ月以上更新のないブログに表示されています。
新しい記事を書く事で広告が消せます。

--/--/-- --:--
|
スポンサー広告
| |
Top▲


Birth day
Today is my birth day.
Unfourtunately, I had a drop og fever and slept out all day.
Temuco is around me every minute.
Thank you, Temuco.

I will spend the year of more research conpared to usual years.




The job of the previous lab
FInally, I finished the data reduction which I did at the previous lab.
A replacement experiments to verify the reproducibility of them.
I'm looking foward to the end result of that research.
By the way, I saw the following view.
Several egret are eating foods in the paddy field.
There are really many birds around here.
Such a view mellows me.


Key trouble!
I locked the front door.
When I took out the key,
it buckled!!!
It was the first time that I saw buckled key!
I brought a key trouble service shop soon.
The clerk said, "Hmm, it's aged deterioration.
If you continued to use it, it will fracture inside the key hole.
Can I make a spare key?"
"Yes, please!" I answered,
The clerk said, "You had better to use not an original key but a spare one."
When I moved to a new room, I usually ask to make a spare key soon.
But this time, I didn't, because I had been very busy.
Not to fracturing inside the key hole is lucky it wasn't wrose.
Thank you, a kind clerk!
↑Sitting at the window is Temuco's morning routine.


Document submitted
I received a e-mail attached documents submietted from a leader of our unit.
The day before yeasterday, a boss of my lab said to me,
"We need not to submit this homework.
I ignore
. I won't send any e-mail to the leader."
I thought, "He is all abroad. The leader wants to know our idea."
But short of time.
So, I deceided a species of vegetable at least, and submitted a document to a leader.
Most documents of other groups were good.
I'm ashamed and sorry.
I should have done something much eariler, although my boss even if he got crabby.
Because we have received research funding.


Our orange blanket
I was in major shock.
An ordinary affairs of a cleaning company telephoned to me this morning.
She said,
"We apologize for you. Actually, we lossed your blanket which we kept on May 22 to dry-clean."
Unbelievable!!!
Honestly speaking, I wanted to complain.
But I heard that all staff of that company have searched for three weeks till now.
I felt she was with guilt written all over her talk.
Furthermore, her manner ringed with sincerity.
So, I allowed her company's miss.
Oh! That blanket is for M.
And late Duruko liked it very very much.
The orange blanket of my cherished memories.
↑Duruko on the orange blanket of the past


Crab on the rainy day
It rained al the mornig.
A crab appeared in the front of insect rearing building.
I wonder Japanese freshwater crab?
The crab cut right in front of me rapidly in the rain.
By the way,
today, I carried an old HPLC (that had got dusty for many years) to a experimental room at last.
It has no PC for workstation and an integrater.
There is a PC out of use in my lab.
The catalog said an integrater is about "300,000 yen" !!!
Oh, my god!
I know there is one female researcher of other lab has several HPLC.
But she has suffered from mental illness, and been forbidden contacting with other people.
Wheather to ask her, "Could I use your HPLC sometimes?"・・・・・.


Monkeys
Several monkeys trotted across the road, when I drived near my office last evenig.
My office is located on the mountainside.
So, I heard not only monkeys and also deers appear sometimes.
It seems that monkeys aroud here prefer a egg plant rather than a tomato and a pepper.




Lovely baybies
I saw the mother and baybies of Grey duck,
Anas poecilorhyncha zonorhyncha
.
It's the child-rearing season for birds.
This town is a region richly endowed with nature.
Many many birds live around here.


An old classmate
A surprized thing happened for me a little while ago.
An old classmate from univeristy visited to my lab.
Honestly speaking, we had not been familiar at that time.
But we remembered each other's face.
It's for the first time in "20 years" (since graduation) !!
I never expected to see an old classmate again.
I heard that classmate works at the company of breeding of vegetables and flowers in Nagasaki prefecture,
and came to study in other lab of my research institute today.
The opening words was "Oh! You are slim compared to in those days!"
Discourteous! But it had a point!
Because my body weight reduced 10 kg.
I felt "alumni" is good thing.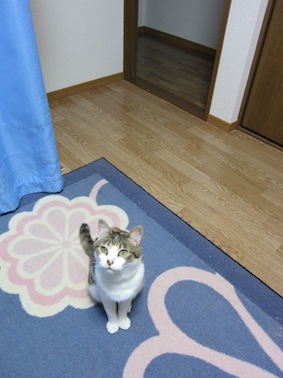 Cough
I had had a cold during GW after going back from Kagosima business trip.
It was the record rain in Kagoshima while I visited some farmers in the end of April.
I think that the cause for my cold was that serious rain.
Therefore, I had been suffering from that cold and fever for about one week.
After that, I have had a bad cough since that cold.
I will have a presentaion in one week・・・・.